Interface: Fresno Metropolitan Flood Control District Environmental Sensors - Fresno Metropolitan Flood Control District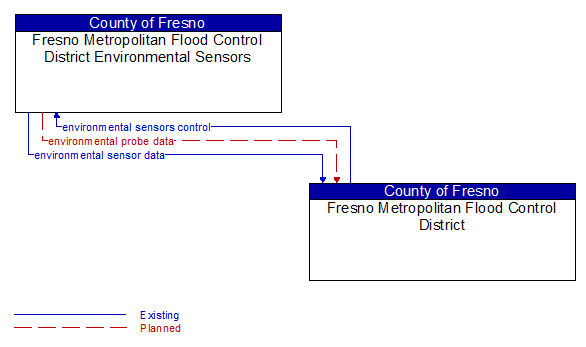 Architecture Flow Definitions
environmental probe data (Planned)
Data from vehicle safety and convenience systems that can be used to estimate environmental conditions, including measured air temperature, exterior light status, wiper status, sun sensor status, rain sensor status, traction control status, anti-lock brake status, and other collected vehicle system status and sensor information. The collected data is reported along with the location, heading, and time that the data was collected. Both current data and snapshots of recent events (e.g., traction control or anti-lock brake system activations) may be reported.
environmental sensor data (Existing) Applicable ITS Standards
Current road conditions (e.g., surface temperature, subsurface temperature, moisture, icing, treatment status) and surface weather conditions (e.g., air temperature, wind speed, precipitation, visibility) as measured and reported by fixed and/or mobile environmental sensors. Operational status of the sensors is also included.
environmental sensors control (Existing) Applicable ITS Standards
Data used to configure and control environmental sensors.