Interface: Caltrans D6/CHP Central Valley TMC - Central Transit Management Server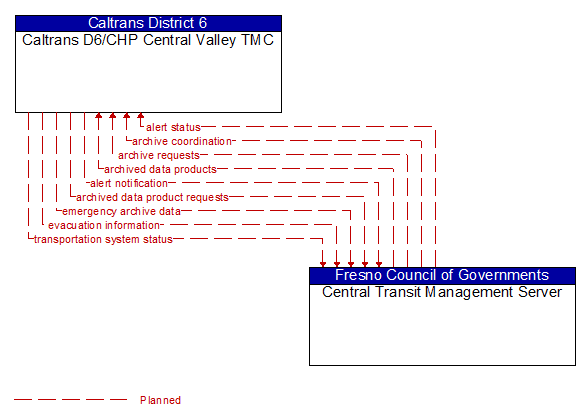 Architecture Flow Definitions
alert notification (Planned) Applicable ITS Standards
Notification of a major emergency such as a natural or man-made disaster, civil emergency, or child abduction for distribution to the public. The flow identifies the alert originator, the nature of the emergency, the geographic area affected by the emergency, the effective time period, and information and instructions necessary for the public to respond to the alert. This flow may also identify specific information that should not be released to the public.
alert status (Planned) Applicable ITS Standards
Information indicating the current status of the emergency alert including identification of the traveler and driver information systems that are being used to provide the alert.
archive coordination (Planned) Applicable ITS Standards
Catalog data, meta data, published data, and other information exchanged between archives to support data synchronization and satisfy user data requests.
archive requests (Planned) Applicable ITS Standards
A request to a data source for information on available data (i.e. "catalog") or a request that defines the data to be archived. The request can be a general subscription intended to initiate a continuous or regular data stream or a specific request intended to initiate a one-time response from the recipient.
archived data product requests (Planned) Applicable ITS Standards
A user-specified request for archived data products (i.e. data, meta data, or data catalogs). The request also includes information that is used to identify and authenticate the user and support electronic payment requirements, if any.
archived data products (Planned) Applicable ITS Standards
Raw or processed data, meta data, data catalogs and other data products provided to a user system upon request. The response may also include any associated transaction information.
emergency archive data (Planned) Applicable ITS Standards
Logged emergency information including information that characterizes identified incidents (routine highway incidents through disasters), corresponding incident response information, evacuation information, surveillance data, threat data, and resource information. Content may include a catalog of available information, the actual information to be archived, and associated meta data that describes the archived information.
evacuation information (Planned) Applicable ITS Standards
Evacuation instructions and information including evacuation zones, evacuation times, and reentry times.
transportation system status (Planned) Applicable ITS Standards
Current status and condition of transportation infrastructure (e.g., tunnels, bridges, interchanges, TMC offices, maintenance facilities). In case of disaster or major incident, this flow provides an assessment of damage sustained by the surface transportation system including location and extent of the damage, estimate of remaining capacity and necessary restrictions, and time frame for repair and recovery.